Each tool in the entire design has its own purpose and function. Droppers can record sounds, test tubes can store different sounds, flasks can mix and play sounds, flask caps can pause playback, and two handles are used to rate the music and delete music . Users can carry a dropper outside to collect their favorite sounds, and then return home to store the collected daily sounds (for example, running water, wind sounds) in test tubes, and store their favorite melody in jars (for example light music) . Then, they can use the flask to make a mixed sound. Users can also share their mixed sounds with friends and let them to express whether they like it.
The complete interactive experience is as follow:
1. Users find their favorite sounds in daily life (for example, the sound of running water, the sound of birds singing, etc.);
2. Move the dropper close to the sound source, squeeze the dropper, the light in the test tube lights up and the prompt sound "start recording", then begin to record the daily sound, and the sound will be stored in the dropper;
3. Suspend the dropper above the test tube and squeeze the dropper, the daily sounds in the dropper will be transferred into the test tube, when the user wants to listen to daily sounds, shake the test tube and the test tube will play the daily sounds stored in it;
4. Make a mix: Just like doing a chemical experiment, pour the sounds you want to mix (the sounds are stored in test tubes and jars) into the flask. Each time a sound is added to the flask, an additional light will turn on in the flask;
5. Shake the flask, different music will be mixed together, when the mixing is completed, smoke will be emitted. The role of smoke is to remind the user that the mixing is complete, when playing sounds, different colors of sparkles shine in the flask light;
6. Share mixed sounds and interaction with friends: Select the "smile face" or "crying face" handle, if friends like the mix, shake the smile face handle and the users will get applause, if they don't like it, shake the crying face handle, after a "sad music" sound, the mix will be deleted.
7. There will be a screen showing the frequency of daily sounds, melody and mixed sound.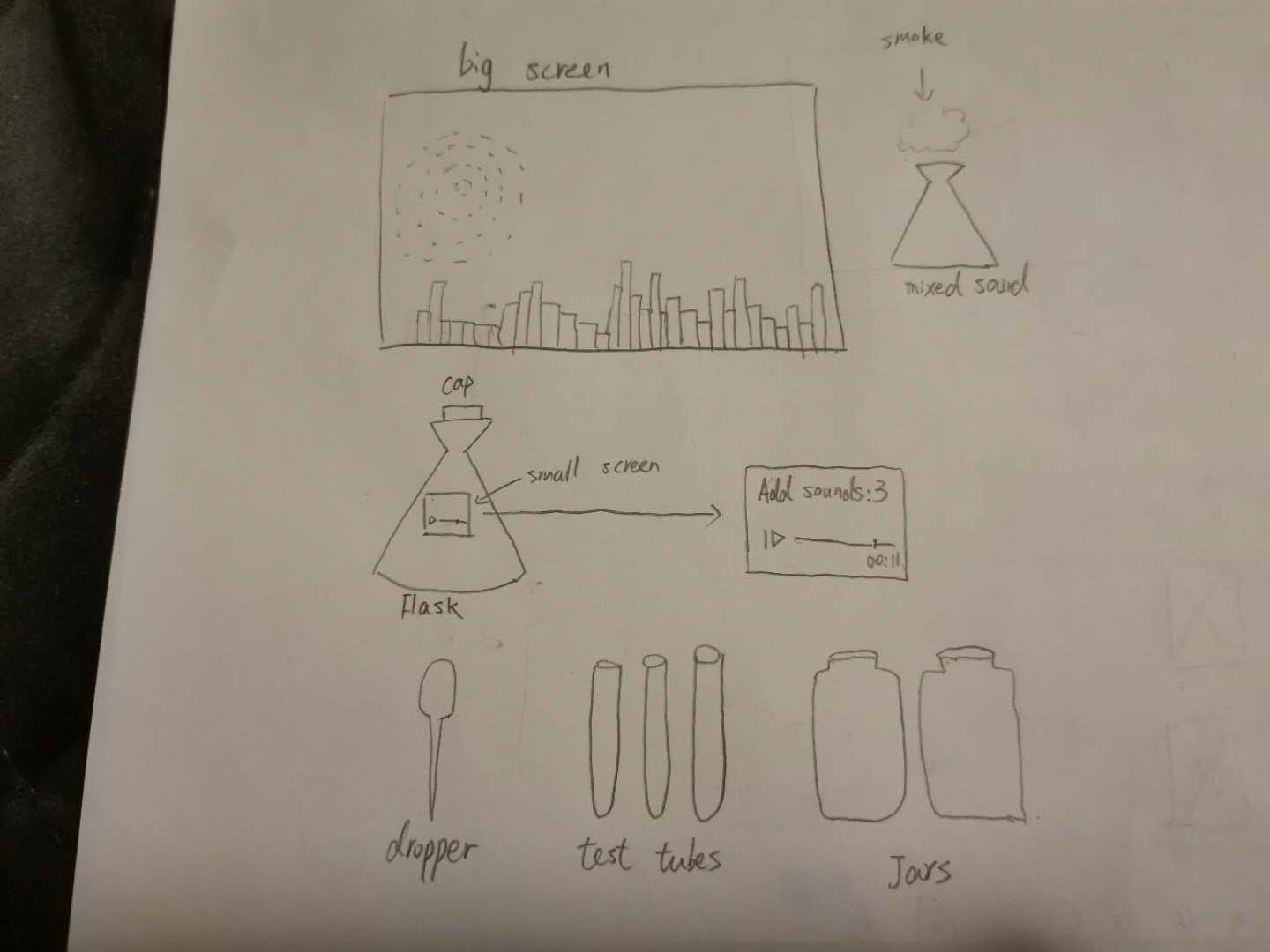 Conceptual Design